24/7 Callout
We are committed to keep your business running with our reactive maintenance "whenever, Whatever, Wherever, your requirements" As we are based in the midlands, we are able to reach your business quickly and effectively by our 24/7 emergency response helpdesk facility, as we are equipped to handle your requirements with our expertly trained team with "One Source – One Solution" which results in a 95% first time fix rate.
Building Services Electrical
At B2 Energy prides itself on the quality of service that we deliver to our clients, in a profession, competent with a cost-effective manner.
Which include:
Electrical design and installation who are highly qualified and experienced.
Design for all Electrical and Mechanical infrastructures in commercial and industrial sectors.
Security Systems, Intruder Alarms, Fire Detection Systems, CCTV with a secure on and off site remote access.
System controls.
Reactive, Planned, Preventative maintenance.
Cable Installation & Cable Management
Power:
Equipment Installations & Testing
Cable Installations
Cable Jointing
Cable Testing
Maintenance Services
Cable fault finding
Ancillary Installation:
Busbar Installations
Containment (Rack & Track)
Supports
Cable Management
Minor Civil Works
Trenching
Ducting
Lighting protection & Earthing
Earthing Networks
Testing
Building Services:
Testing & Inspecting
Lighting
Power Cabling
Fire Alarms, Design, Commissioning and Testing
CCTV
Data Communications
Building Management Systems
Security System Cabling
Building Services Mechanical
We recognise that the requirements for both Electrical and Mechanical skills meet our customers' requirements with quality and capability in mind.
Which include:
Mechanical Design use our committed, enthusiastic and professional division, who's ethos is a mirror image of the Electrical design team. Who both provide a fully combined facility which way include Electrical design.
Design for all Mechanical and Electrical infrastructures in commercial and industrial sectors.
Air conditioning and comfort cooling for the current office environments.
HVAC (VRF) systems.
Domestic Heating & plumbing LPG & Natural Gas.
Commercial &Industrial Inert Gas Design, Install, Maintain.
Commercial & Industrial heating including Biomass.
Installation of Pipework (Gasses) & Mechanical Services
Pipeworks:
Equipment Installations
Gas installations
High pressure gas installations
Combustible gases
Natural gas
Liquid petroleum gas
Non- Reactive gases (Inert)
Nitrogen
Oxygen
Compressed air
Pipe jointing
Pipework commission
Certification
Maintenance Services
Testing, Commissioning & Certification
Classification of pipework:
Screwed Steel and Galvanized
Welding Steel
Welding Fusion
Copper pipe high grade
Stainless Steel
Polyethylene (MDPE)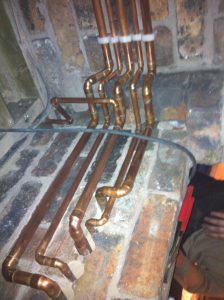 Ancillary Installation:
Support
Pipework Management
Minor Civil Works
Trenching
Building services:
Testing, Commissioning & Certification
Boiler repair
Boiler modernisation
Office Heating
Building management system